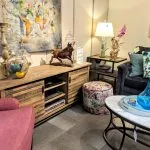 Furniture Store in Saratoga
Saratoga Signature furniture store and interior design is a full service furniture store and interior design firm in Saratoga. We are located at 82 Church Street in Saratoga Springs. Just steps away from Broadway. We offer a wide selection of in stock and custom order furniture.
At Saratoga Signature Interiors, we pride ourselves on providing our customers with quality furniture and unbeatable customer service.  We want our customers to feel like part of the family the moment they walk through the doors of our store. We are a different kind of furniture store.
All of our handcrafted furniture pieces are built to last for every room of your home. Our furniture store is carefully hand curated with our customers in mind. We are proud to offer American made furniture, and we have a huge selection of furniture that is ready to fit a variety of styles. If you can't find what you are looking for in our showroom, our award winning interior designers are ready to help you find the perfect style to fit your home. We also offer in store financing, through Synchrony bank, making it easy to bring home the perfect furniture for your home. Apply today to take advantage of special financing options.
Shop local and experience the difference
(518) 581-0023
82 Church Street Saratoga Springs, NY 12866
Our furniture selection and layout changes all the time, so make sure to come visit us frequently to see all of our new arrivals!!