You Found The Perfect Furniture, Now what? 
Let me paint a picture for you: You walk into your favorite store and head straight for the home department. Your eyes are suddenly bombarded with beautiful things. Lamps, sconces, and assorted accessories, OH MY! You're suddenly not sure what to do. How do you know what will work with your meticulously planned out living space. You could wonder around looking for hours, and still go home with nothing. Sound familiar? If you're like most people then the answer is yes. This post is for you!
We have some tips for making your home as interesting and stunning as you are.
First things first. Decide on the look that you want. Modern, Symmetrical, eclectic, rustic, or maybe you want a country cottage feel. There are so many different styles and looks out there, no wonder it gets confusing. Once you decide on the style you want, choosing accessories becomes a heck of a lot easier. A good rule of thumb is to make sure you are choosing to highlight colors, textures, and themes that you love! You have to live with it, so make sure that  the accessories you choose let your personality shine through.
You Don't Have To Be Perfectly Symmetrical (Unless You Want To Be)
If you love that perfectly symmetrical look then that's great, but decorating isn't a one size fits all kinda thing. If we are being totally honest here, nothing is really one size fits all anyway! We are all stunning, unique, and extraordinary in our own right. It's important to let that shine through into your home decor. You want to find the perfect look to embody your particular personality. If you are the kind of person that finds it pleasing to have everything in its balanced place, than you might want to skip this paragraph because a symmetrical style model might be absolutely perfect for you. If you live life with a little more of an organized chaos kinda style than keep on reading. If you are not exactly sure what your style is, than it might be best to look in the mirror. How do you wear your clothes? What fashion statements do you like to make? That can tell you a lot about the colors and styles you prefer to surround yourself with. Decorating your home should be a fun and creative experience, if it isn't then you are probably doing it all wrong. Mix and match to find the perfect contrast. Place and replace until you love the way your room looks. Unfortunately, there isn't a magic formula that is going to work for every person 100% of the time. You have to get creative and let your mind play with all the possibilities in front of you. Look through the pages of your favorite home and garden magazine, get inspired, and get decorating.  If you are interested in finding out what your ideal style is, take this fast and fun quiz : Click here to take the style quiz!
Work in Odd Numbers
Three's company too! Really, it's true. You can trust us on this! Things just look better in sets of 3's and 5's. Things arranged in odd numbers are just more visually appealing. It's called the rule of three, and its a real thing! There's a good reason that sitcom wasn't called Four's Company, or there weren't six blind mice. That same reason can help you create an interesting home that's not just functional, but also has visual depth that's super satisfying to look at. When hanging artwork or decor, two of one thing is merely a couple. Three items automatically make it a collection. Try to create interesting focal points by placing an odd number of items with varying heights on table tops. The rule of three also works with color schemes, patterns and textures!! Choosing only two colors, tones or shades in a room can make it feel flat and not fully dimensional. A third takes the space to a different place that feels fuller and more complete. Just keep in mind that you want your space to be as functional as it is beautiful. Make sure not to over clutter your table tops to the point where you can no longer use them.
"Heaven, Man, & Earth"
Nancy's Mom used say: "when decorating think of Heaven, Man, and Earth." You might be wondering what that is supposed to mean, but it's actually rather simple. Work with varying heights. Heaven is high, Earth is low, and Man is in between. It helps to have groupings of objects in varying heights, shapes and textures. At the same time, there should be something similar about them. This advice seems to contradict itself, but the point is, there should be something that groups your items together, but also something about each of them that is slightly different. The goal here is to make sure everything isn't uniform, and boring.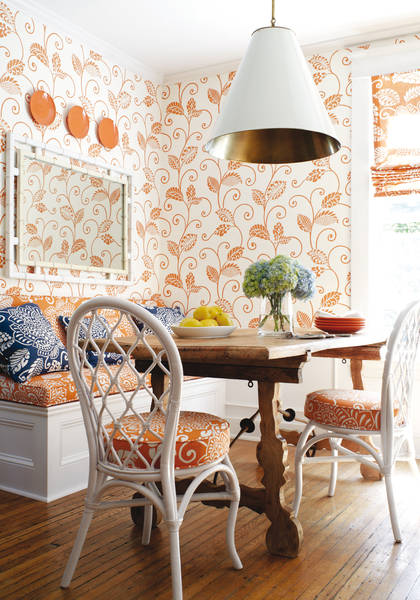 Don't Staircase Them…
I know that it might be tempting to want to staircase your hanging art and pictures, but don't. There happens to be a much more eye pleasing way to hang them!
When you are hanging 3 or more pictures in a grouping, placement is everything. Here are some tricks to help you create a more inviting space:  Make sure to find the focal point of the space, and keep your new art grouping center and at eye level. You want to be careful not to hang your pictures too high or too low. Properly displayed, a piece of art or a mirror can enhance a focal point, an architectural detail, or serve as a focal point itself. When hanging artwork and mirrors in wall groupings, hanging odd numbers, instead of even, together can be more visually appealing to the eye. There is that golden rule of 3 again! For asymmetrical groupings, you can combine artwork of different shapes and sizes, but they should have at least one characteristic in common, like; color, subject or frame style. Asymmetrical wall groupings can be tricky to create. Work out your arrangement on the floor or paper before pounding any nails in the wall. Typically, you want to start with the largest piece first and then arrange smaller pieces around it until you achieve a balance you like. Remember it's all about what you want to see everyday, so stay true to your style. While we are on the subject of wall art, Keep in mind that pictures lighter in color should be hung higher, while darker pictures should be hung lower.
What ever style you decide on, be sure to follow these key concepts and tips for accessorizing your home. Armed with this knowledge, you can be sure that your home is functional, comfortable, and pleasing to the eye. We know that decorating can be complicated and exhausting, that's why we offer a number of different decorating services to our customers. These services include: Professional picture hanging, accessory placement preformed by our skilled and professional interior design team, color consults, many other interior design services. Tired of doing it all? You don't have to! We can help. For more information on the tips and tricks listed in this blog, or to schedule a design consultation please call us: (518) 581-0023